there hasn't been too much going on in our household lately. We have just enjoyed being outside in the gorgeous weather that we have had lately. For San Diego, I'm surprised that it gets pretty chilly at night time, and with it getting dusk here at 4:45, it makes for early evenings with G.
We are having Thanksgiving here at our house this year, and, we were blessed to get a huge basket of Thanksgiving stuff provided for military families and it even included a turkey. (Too bad, I just went shopping last night and got all that stuff),but, I did donate it to a Christian Mom's Group that I am in, all the extra stuff. I feel glad to help out in some way.
We did get a little too excited and already have put up our Christmas Tree. Since we both will be gone 2 weeks out of December, I wanted to get it put up since Christmas is my favorite time of the year.
G and I are planning on going to Florida in the next few days for a couple weeks, we are doing our early Christmas out there since the prices sky rocket around Christmas. So, I am looking forward to seeing my new nephew, J, and my other nephew, A and my other family and friends that live there. It will be nice to see FL after being in California for the last 9 months! (just realized that it does NOT seem like that long at all, where has time went?)
I have my second Dr's Appt on Tuesday to see the baby. I will be 10 weeks and 2 days on Tuesday. I'm so close to the end of the first trimester. I have felt fine in the mornings, it is just the nights that I don't feel the best, but, I'm managing. I'm thankful to have a wonderful husband who helps out tremendously.
We have picked the names out, but, we are leaving those secret until the baby is born.
Other than that, N has been working long days, but, we manage. G is still doing his speech therapy and doing great in it, he's progressed quite a bit.
He's now in his terrible 2's and I must say, it's interesting. He loves Mickey Mouse Clubhouse, Blue Clues and Elmo.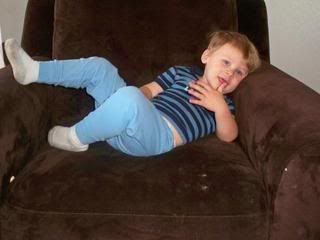 Elmo is his favorite ornament on the tree. My mom gets us one every year and I got this one for him last year. He spotted it and kept saying "elmo".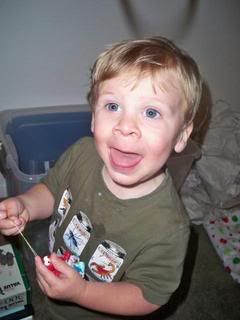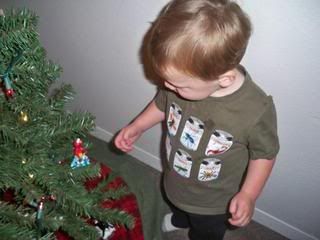 My 2 loves.